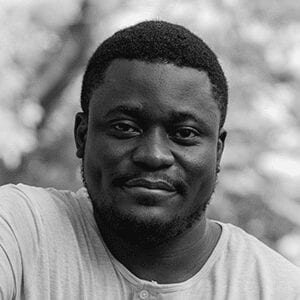 Bayo Akomolafe
Author, speaker, renegade academic and ethno-psychotherapeutic researcher, Bayo Akomolafe (Ph.D.), is globally recognized for his poetic, unconventional and counter-intuitive take on global crisis, civic action and social change. Bayo has authored two books: We Will Tell Our Own Story and These Wilds Beyond Our Fences: Letters To My Daughter on Humanity's Search For Home and has penned forewords for many others.
Bayo is visiting professor at Middlebury College, Vermont, and has taught in universities around the world (including Sonoma State University California, Simon Frasier University Vancouver, Schumacher College Devon, Harvard University, and Covenant University Nigeria). He is a consultant with UNESCO, leading efforts for the Imagining Africa's Future (IAF) project.
He considers his most sacred work to be learning how to be with his daughter and son – Alethea Aanya and Kyah Jayden – and their mother, his wife and "life-nectar", Ijeoma.
Courses and Lectures
by Bayo Akomolafe