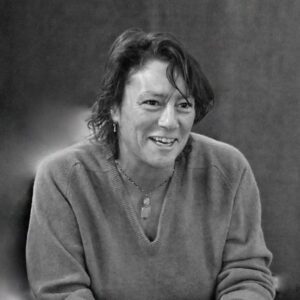 Lisa Starr
Lisa Starr went to Block Island, Rhode Island for a summer job in 1986 and loved island living so much that she stayed for 30 years. With her former husband, she bought a derelict property and converted it into a 10-room inn (The Hygeia House) where she was the innkeeper for almost 20 years. The inn became headquarters for the Block Island Poetry Project, the renowned writing series she created and directed from 2003-2015.
Starr is the author of three collections of poetry, including Mad With Yellow, her most recent. She also edited the anthology Where Beach Meets Ocean, celebrating the first 10 years of the Block Island Poetry Project. Starr was Rhode Island's Poet Laureate from 2007-2013. Her poems have been published in dozens of journals and for the last 15 years she has traveled extensively around the country (and the world) as a visiting poet sharing her poems and conducting workshops.
Starr currently lives in Westerly, Rhode Island, and serves as the Artistic Director for the Arts Café Mystic and moonlights serving tacos and margaritas at a very cool local cantina. She is nearing completion of Pot Luck, a collection of poems about children, and collaborating with her long-time companion, the poet and Rumi translator Coleman Barks, on a memoir about grief, time and their friendship with the poet Mary Oliver.
Courses and Lectures
by Lisa Starr