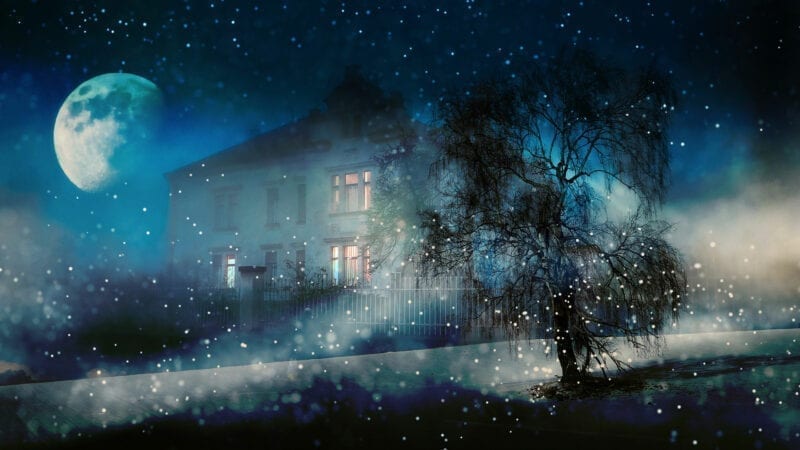 Dreaming is therapeutic. Is there a way to make it more so? Unequivocally, yes. Much like therapy, the more we invest our time and energy into our dreams, the more helpful they will be. This is not a new idea, but one that is gaining a broader spectrum of supportive evidence, moving beyond clinical case studies to include the realms of neuroscience and traumatology. Our brains and bodies have a natural tendency towards health and wholeness, and dreams, even the so-called bad ones, are implicated in the process of maintaining our emotional and spiritual health.
There are the obvious cases. For example, a few years back, a client was having a particularly difficult time in her life and feeling wholly unsupported by those closest to her. She dreamt that a large bear of a woman gathered her up in her lap and held her close, rocking her and telling her everything was going to be just fine. This dream was vivid and visceral, and she woke from it feeling soothed and hopeful.
Most dreams are not quite so obviously helpful. For example, this summer, my beloved cat Shadow disappeared and I have not seen him since. Shortly after his disappearance, he came to me often in my dreams, at first so realistic I felt I could reach out and touch his silky fur. Later, his dream presence was more distant, his image starting to break up. These dreams are more like how therapy really is – helpful but painful too because it brings us face to face with what we are up against. Therapy is typically a process that allows us to consider, feel deeply into, and ultimately accept and move through aspects of life that we find challenging. Therapy includes many supportive moments, akin to the bear hug woman, but it is rarely as simple as that.
I have spent more than 20 years as a clinical therapist who welcomes and explores client dreams as an intrinsic part of the process. I have also paid attention to my own dreams. I understand first-hand the tremendous value dreams have in alerting us to what we need to attend to. I have been astounded at times by their wonderfully creative way of offering us new perspectives on tired old situations. But rarely are they clear and simple like the bear hug woman dream. Instead, their helpfulness usually comes in two ways. One is an automatic sorting and emotional processing that goes on in the background while we sleep. The other is via active engagement with dream images, a relational process that takes time and effort on our part. We can do this dreamwork on our own or in the company of a dream partner, group or therapist, or do both: begin exploring on our own, and then with the help of others. I recommend both.
My point is that while dreams are naturally therapeutic, we can greatly enhance the help they bring us if we spend a little time and make an effort to engage with them. And yet so many people ignore this nocturnal resource. Why is that?
I can offer several possible reasons. First, dreams often feel too mysterious and unapproachable. For example, recently I had a dream where there was a clear felt sense that I had been searching the world and had finally found what I was looking for. The rest of the dream is more vague, and only partially recalled… but my holy grail seemed to be in the clear turquoise waters of a shallow lagoon in some faraway place, and maybe was a school of fish. Then I was a disembodied watcher floating above the dream scene looking down on a white car with strange gull-wing doors flung wide open. This image has a spiritual feel to it, the white car reminding me of snow angels.
The dream also brings to mind my very first and most vivid lucid dream — I was swimming underwater and the realization that I didn't seem to need to air sparked my lucid awareness of dreaming. To process this dream, I had a meandering conversation with my dream partner, and gained a better sense of how this dream might be "just what I was looking for." Some helpful pointers: the car was floating, a vehicle, a mediator of sorts between the air above and the water below. I made plans to draw the image to engage with it further. Rarely do dreams offer up clear and easy answers.
Then again, this is also similar to therapy, at least in the way I practice it. I do not see myself as in the business of providing opinions, solutions or answers. I am an active, empathic listener, and a supportive advocate for my clients. But this support comes in a way that ideally enables them to hear their own voices more clearly, to plumb their depths, to face their demons and if needed, to metabolize embodied trauma and memories that may be holding them back. But I don't view therapy as an excavation project in which we search the past for sources of pain. I believe the best working material for therapy comes from the present, and attending to what arises now that needs attention (which of course will include the past). Dreams very often bring up what's most salient, emotionally-charged and related to current challenges. They can also point the way forward.
This brings me to another reason I believe many people turn away from their dreams despite their inherent therapeutic value. It's the same reason clients often arrive in therapy only after they've reached a point of desperation, their inner demons shouting too loudly to be ignored any longer. We tend to dream of what we repress, those aspects of our lives that can be difficult to face. When we wake from a dream, I expect there is some level of awareness that the dream is telling us something we need to hear but don't want to hear. Dreams are like homeopathic medicine – a small dose of what is ailing us, a direct experience of our problem. They are an irritant that has the potential to begin the process of response, and ultimately of understanding, metabolization and healing. But first we need to turn toward them and have the courage to let them in.
Dreams have inherent therapeutic value. Why don't we tap into them more? Dr. Leslie Ellis offers dream exploration courses online to clinicians and anyone interested in engaging with their own dreams. She is author of A Clinician's Guide to Dream Therapy, and many articles and book chapters on embodied experiential dreamwork and focusing. Join her for a free talk on dreams and therapy on the Dream & Your Personal Journey Summit.

Leslie Ellis
Dr. Leslie Ellis, PhD, is an author, teacher, speaker and clinical dreamworker. Her book, A Clinician's Guide to Dream Therapy (Routledge, 2019) offers therapists a primer in modern, experiential dreamwork.
More Posts by Leslie Ellis