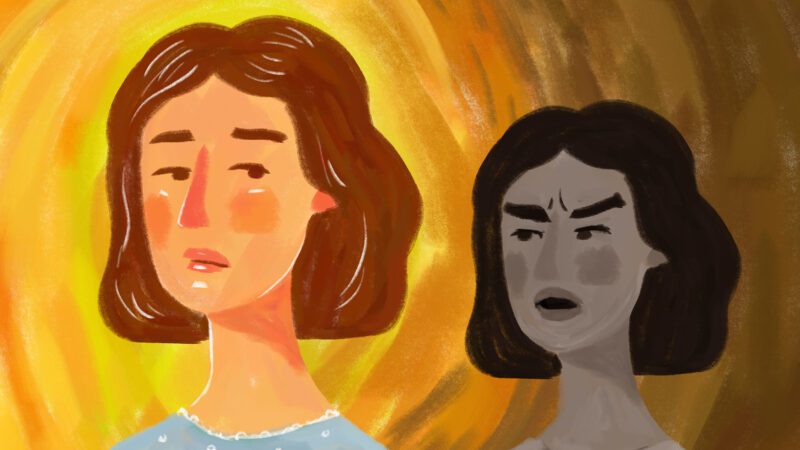 It started as a whirlwind romance, but the connection quickly went awry. Incomprehensible mood swings, irrational tantrums, and an aloof coldness soon entered the relational field. My initial response to this change was self-directed. I began analyzing the situation, reflecting upon my shortcomings, and wherever needed, changing my behavior, even as I maneuvered his explosive moods. But as time passed, I found myself losing my usual zest for life and my healthy sense of self—aspects which, until that point had defined me. I ended this short-lived relationship. 
Anyone who has lived or dealt with a narcissist in his/her life will recognize some of these relational dynamics. You try to accommodate the other person as much as you can; you want to help them, and you justify their behavior even though you suffer because of it. And all this time, you ignore your own feelings, your needs, and your Soul's wishes. 
As a psychologist and coach, I have heard many break-up stories and many of my clients have complained that their ex-partner was a narcissist. These partners might very well have been narcissistic but just like my "diagnosis" of my relationship, there is more to the story. When we place the blame fully on the other person, we remain blind to our role in the co-creation of the relational dynamics. Unfortunately, when we hide behind innocence we miss the deeper call for personal development and wholeness.
Being a Jungian psychology-lover at heart, I believe it is useful to look at our romantic relationships—they carry vital information about ourselves and often reflect something about ourselves that we are unaware of. It is then useful to ask: What does the other reveal about myself? 
When I undertook this exercise, I found that it didn't matter to me if my ex was also clinically diagnosed as a narcissist. Instead, I focused on what his narcissistic behaviors revealed about the relationship that I had with myself at the time. I listed down his behaviors that had troubled me and asked myself how his behaviors (toward me) reflected an inner dynamic. My list included:
Where am I lacking empathy toward myself? 

How often do I disregard my own needs and feelings or not act on them?

How and when am I 'gaslighting' myself and doubting my interpretation of reality?

When do I rationalize my emotions away? Is this because I considered myself 'too sensitive'?

Do I recognize the moments when I justify poor behaviors in the other? And, what do I gain from stepping into the role of a 'heroic savior' where 'I can fix you'?

Why has this experience been part of my life path? 

Is my life about my Soul's wishes? Do I make it so?
Answering these questions, no matter how hard they were, inspired change in my life. I realized that I had hurt myself in the same way as he had. The hard, ruthless, and dismissive attitude that he had shown toward me was also the way I had treated myself for years. And that I had made my life too much about serving others, and too little about serving the desires of my Soul. 
Looking back, it is clear to me that through this experience of crossing paths with a narcissist, Life was asking me to pay attention to myself and my Soul. My observations matter, my feelings are essential to finding my way through life, and it is up to me to witness and act on the deeper desires I had for my life. 
Breaking away from the inner narcissistic dynamics we carry within ourselves, opens up new ways of being. The moment we recognize how we limit ourselves, we begin to make space for our authentic and creative being to come through. We open up for love. And, this is the biggest gift we can give ourselves. 
As a final note, the reflection exercise suggested above is not about blaming yourself for being in a narcissistic relationship or having been in one. Nor is it about taking full responsibility for the relationship's unfortunate dynamic. This blog is a gentle nudge to investigate and/or to acknowledge that part within you, which behaves much like a narcissist, in your inner life. This is where you might be unconsciously perpetuating pain and limiting yourself in a way that is not serving you. 
Whenever there is a person with narcissistic tendencies, there is often a person with codependency close by. On our platform, we offer courses about narcissism as well as codependency. Both courses encourage you to live a life, in which you are true to yourself and connected to your Soul.
Craig Chalquist explores the opportunities for growth and insight that grappling with narcissism offers us in the eight-class course Narcissism. When you know how to manage narcissism you are free to live your own life, with healthy self-esteem, and sensitivity to your needs and desires. Learn more here.
Craig has also taught the excellent course Codependence: How to Identify and Heal here at Jung Platform. In it, he offers several suggestions on how to shift your perspective on this dynamic, how to approach it, how to show up differently, and how to deal with it so that you can have satisfying and nourishing relationships. Learn more here.

Akke-Jeanne Klerk
Akke-Jeanne is Jung Platform's co-founder & VP Strategy Programs. Her background consists of a Master's in Psychology, and several years of training in Jungian Analysis. She is the author of 'Psychology of Heartbreak' (in Dutch) and she provides Jungian coaching and training.
More Posts by Akke-Jeanne Klerk
Comments are closed.