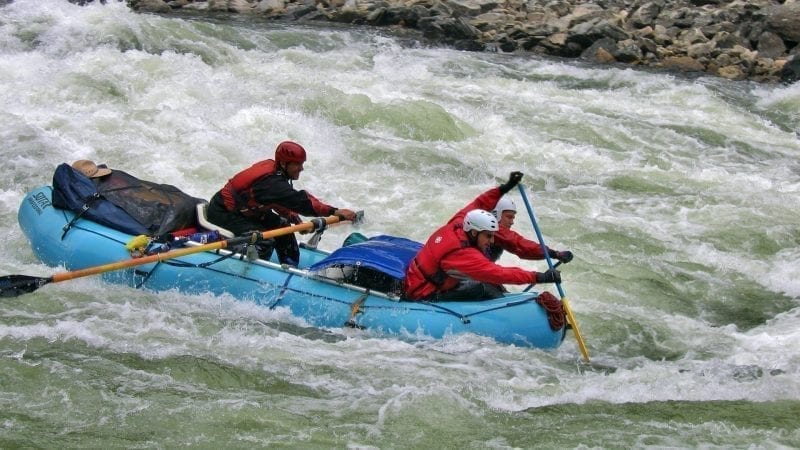 We are in the wilds, abandoned in a place where we are no longer the top of the food chain, attacked by invisible predators. In that location without guides we have to be crafty, so what can we turn to? Not the old stuff. That doesn't work here. Let's assess. These are the white-water rapids and we've never been here before.
This state I'm talking about can happen at any moment in life when security vanishes. It usually comes with loss: losing a job, a loved one, a relationship, or as we experience together right now — in privileged society where we had not been dealing with starvation and mind-numbing death on a daily basis — the loss of the world as we knew it.
My day job is dealing with dreams. One dream stands out for me. I've seen it over the last few months of Covid19 time and again: the dreamer is in a familiar place — her own city she has lived in her whole life, the home he lives in right now — yet everything is utterly unrecognizable, though same. 'Don't know where to go, have to get to the airport, but where?? Have to shop at the grocery store, but how do I get there??' 
Bewilderment in a jungle of unrecognizable familiarity. My latest course on Jung Platform is an introductory course in falling apart and what comes next.
The first thing I help the dreamer do is to feel this out of control sense of spooky weirdness and panic in their bodies. 'I should be able to find my way out. I always have but now I can't. All my positive thinking has run into an immutable wall of fate.' The old Greeks, who frequently have good stuff to say from their ancient Aegean hideaway in history, tell us that Destiny (ananke) grabs us by the scruff of the neck and spins us around. We have to suddenly face the utterly unexpected: I'm shaking; my shoulders weigh a ton; I feel a clutch in my belly like a fist; I'm spinning; I feel completely exhausted; my legs are made of chewing gum. 
That's where I start when it happens to me. I let go of the content of my attempts to figure it out and feel my embodied state of bewilderment. Strangely enough, that calms me down enough to note things like the ringing in my ears and the up-close location of the horizon past which I can't see a thing. Boink! Paradoxically, now I can start using my mind.
I have a Swiss army knife in my bag of tricks I've been carrying around in my knapsack for many decades. For openers, needed for this can of worms, I flip out the master of Falling Apart, James Hillman, my teacher and old friend from way back; he'd be in his nineties by now. He tells us that in the territory of change falling apart appropriately comes first. 
This of course leads me to alchemy. I say 'of course' because from both Jung and Hillman I have learned that when things become utterly unclear you look for a perch outside of your own daytime from where you can look at the Zeitgeist you're in. Incomprehensible alchemy, much like incomprehensible dreams, does nicely. I usually go to the 16th century compendium of weird wisdom, the Rosarium Philosophorum – the bloom of all alchemical thought that had gone before. 
In another Jung Platform course I've presented, Gibberish: Alchemy for Everyday Life I looked at the chapter about the blinding loss of soul, when this whole Covid mess began. Now we're in the middle of Covid and I'm trying to find threads in these wilds I might follow on this labyrinthine path. I'm diving into the next chapter in the Rosarium, where we see a little soul-person dive back into the body: the re-turn of the soul (anima) or re-animation. How do we reanimate this body that has gone through a trauma not experienced for 100 years to the day, this once in a lifetime collective cataclysm not caused exclusively by the cruelty of man upon man? And as I mine alchemy, I find little priceless nuggets.
Then I go to the history of thought to see how we got here. I start with the invention of objectivity in the Florence of 1415 and follow its reign to its very end in quantum physics where both the quest for certainty and for disengaged objectivity perished.

I look at complexity theory that tells us that complex systems self-organize and compare it to all the conspiracy theories we're currently dealing with. And all the while I will stay aware of the fatigue this all causes, such as holocaust-fatigue. Will remembering slavery give rise to the next fatigue or to change?

Keeping in mind that bewilderment is an intimate experience that throws each of us for a loop individually, I'll present practical exercises to deal with our individual loopiness.

Won't you join me?
Robert Bosnak's course Navigating the Territory of Change invites us to explore what happens when personal and collective crises shatter our lives, and why being able to deal with change is paramount for our wellbeing. 

Robert Bosnak
Robert Bosnak, PsyA, is a Jungian psychoanalyst who graduated from the C.G. Jung Institute in Zurich in 1977. He pioneered the Embodied Imagination method, and his current interest is focused on exploring Embodied Intelligence (MQ). Robert Bosnak is a Core Faculty Member at Jung Platform.
More Posts by Robert Bosnak
Comments are closed.